Goddess Belly Dance is a journey to your Womanhood!
Magdalena Lisowska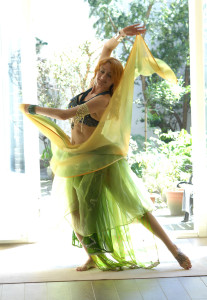 maandag 7 maart
Aanvang: 19.30-22.30 uur
Bijdrage: €20,-
English spoken, Nederlands wordt begrepen.
It will guide you through several female archetypes, sleeping in your belly and your subconscious.
We will dive from softness of Venus to the wrathfulness of Kali.
It's gonna be a joyful tour connecting you deeply to the body pleasure, breath, emotional self and to your Sisters in the new light of honoring and supporting each other.
You can experience:
 – Feminine meditation: unstructured and released from male stiffness and boredom (sorry guys, we love you)
– Lazy, pleasurable yoga: slowing you down, full of sounds, variety of breaths and childish fun, getting you in an instant from the head into the full body energy.
– Belly Dance:brings out the sensual, natural and mysterious qualities in us.
 – Reflection upon goddesses quality's in you, recognizing your own powers and weaknesses based upon those archetypes.
– Big smile & muscle pain next day.
– Beautiful circle of friendly sisters.
 What to wear? Just an easy legging, skirt and t-shirt like a tank-top
 More information about Magdalena Lisowska/Red Dakini: www.reddakini.eu
 Aanmelden: red.dakini@hotmail.com of via 06-26727077